ENVIRONMENTAL, SOCIAL AND GOVERNANCE
Our four commitments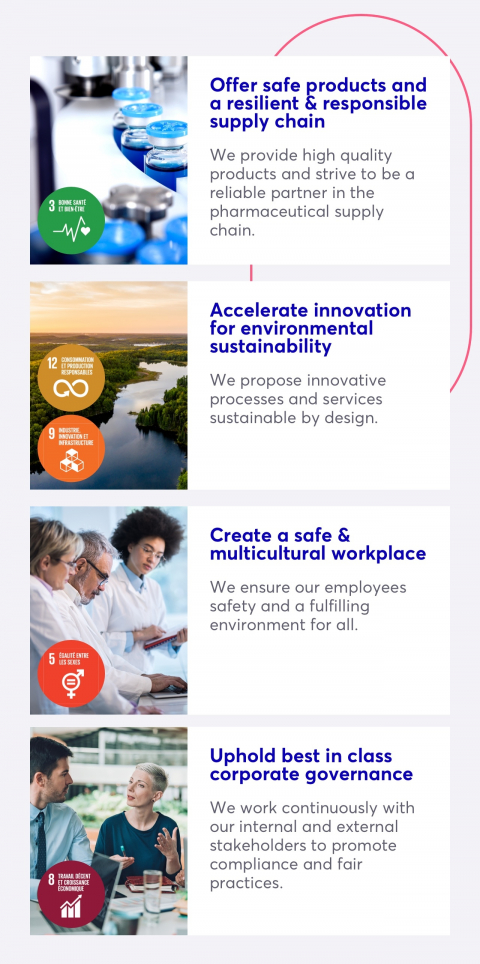 1. Offer safe products and a resilient & responsible supply chain
We provide high quality products and strive to be a reliable partner in the pharmaceutical supply chain.
OUR PRIORITIES
Maintain the highest quality standards with large scale assets, production capacity and span of innovative technologies
Ensure a regulated market footprint
Ensure security of supply chain for clients and patients
Assess and support the sustainability performance of suppliers
Support cross company/sectoral initiatives
2. Accelerate innovation for environmental sustainability
We propose innovative processes and services sustainable by design.
OUR PRIORITIES
Promote highest quality standards
Improve our environmental footprint for every EU environmental objective: climate mitigation and adaptation, water management, circular economy, pollution prevention, biodiversity
OUR OBJECTIVES
100% sites ISO14001/50001 certification by 2023

~ 100% sites electricity from renewable sources by 2025

~ -30% of CO2 emissions (vs. 2020) by 2030 (scope 1 & 2)

2050: Net zero carbon emissions target
3. Create a safe & multicultural workplace
We ensure our employees safety and a fulfilling environment for all.
OUR PRIORITIES
Commit all the employees for a Zero Accident Goal
Ensure all employees are uniquely valued and work in an inclusive environment
Promote cultural diversity and international mobility
Foster learning and mentoring
OUR OBJECTIVES
30% women in leadership position by 2025

LTI – Lost Time Injury to 1.5 per 1,000,000 hours worked by 2025

The rate of recordable work accidents (TRI – Total Recordable Injury) to 2.5 per 1,000,000 hours worked by 2025
4. Uphold best in class corporate governance
We work continuously with our internal and eternal stakeholders to promote compliance and fair practices. 
OUR PRIORITIES
Build strong sustainability governance structure
Uphold the highest international standards on ethics and corruption
Boost transparency in all our relationships
OUR OBJECTIVES
United Nations Global Compact commitment in 2022

100% completion of code of conduct and compliance training (incl.. corruption) in 2022