CDMO Services
Particle Engineering
EUROAPI is an expert in particle engineering, mastering two main technologies:
micronization (for development and commercial-scale operations, inhalables and nanoparticles) and spray drying (for development to large commercial-scale output).
Micronization involves more than breaking a particle into smaller pieces. It induces changes in the physico-chemical properties of the solid.
Mechanical stress generates process-induced molecular disorder on the surface or the inner part of a particle, and partial amorphization is the most common outcome.
Solubility can rise to 1,000 times compared to crystal (and up to five times for polymorphs).
The EUROAPI Vertolaye site in France is our Center of Excellence for micronization.
The spray drying method has been developed over the last 30-50 years in the food and pharmaceutical industries. It transforms a feed from a fluid state into a dried powder by spraying the feed into a hot drying medium. This versatile process can be used from lab scale all the way up to commercial multi-ton production and, can dry materials while preserving them from degradation.
Spray drying also provides advantages for particle engineering by adjusting particle morphology and characteristics to defined limits to improve a product's solubility, bioavailability and flow characteristics.
The EUROAPI Haverhill site in the U.K. is our Center of Excellence for spray drying with over 20 years of experience in commercial pharma spray drying.
Micronization capability
Milling process at Vertolaye

Available technologies:
Micronization (4, 8, 12 and 20 inches)
Hammer milling, blade milling
Ultrasound sieving
Homogenization
Other technologies rented fully mounted
Specialties :
Cryomilling (-140°C)
Cryomicronization (-30°C)
Micronization under controlled humidity, dry air or nitrogen
Process improvement, trouble shooting
Solid state characterization at Vertolaye

Available technologies:
Optical analysis (microscope, binocular, SEM)
Thermal analysis (DSC, MDSC, DMA, TGA)
Powder flowability (Flodex, angle of repose, density)
PSD analysis (Sympatec, Malvern, Beckman Coulter)
Specific surface area (BET and Blaine)
XRPD
Dynamic Vapor Sorption (several solvents)
Specialties:
In-line PSD analysis (at-line, on-line, in-line) with Insitec probe
Solid knowledge (amorphous and crystallized phase, polymorphism, PSD, stability, isomorph, inhalable)
Spray drying capability
Lab/kg scale capabilities - R&D and proof-of-concept scale
A lab-scale "Labplant" spray dryer will be available for proof-of-concept work.
A small-scale spray drying development and manufacturing facility is under construction in the K9 building - available from Q2 2022.
SD1 spray dryer
Micro-agitated vacuum dryer
This facility will be capable of supporting site activities and minimizing the use of precious client materials by deploying troubleshooting, tech transfers and small-scale manufacturing.
It features a small-scale, class-D capability room to manufacture GxP materials. The required safety zones and equipment will enable the facility to manufacture toxic materials up to OEB4.

The same facility will be used for proof-of-concept work, manufacturing materials on a small scale, and also for process trials/improvements in PSD2, PSD4 and K30 building.
The lab-scale spray equipment will have a manufacturing capacity of up to 3.5 kg of material per week.
The spray dryer will able to process ~150g of material per hour
All equipment will be GMP-capable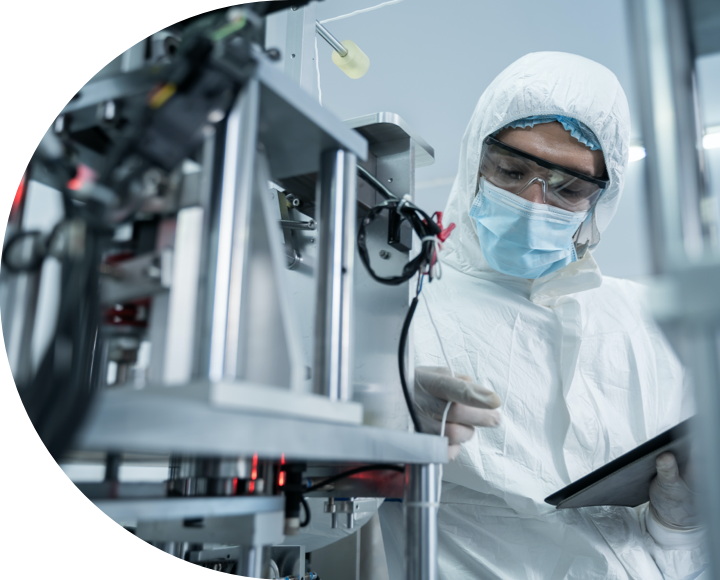 Pre-clinical, clinical and commercial spray-drying capability
All spray dryers can handle solutions, suspensions and emulsions. Feed can arrive as solids to be reconstituted or as liquid feed stock. Batch cycle time is process-dependent, but usually takes from 5 to 7 days.
Pharma scale:
PSD2 – Development and scale-up, production launch. Aqueous and organic solvent-capable. 10 kg to 70 kg batch sizes. Secondary drying using an agitated vacuum dryer (if required).

PSD4 – Scale-up and production. Aqueous only, with a project in progress to upgrade to become organic solvent-capable. 80 kg to 500 kg batch sizes. Secondary drying using an agitated vacuum dryer (if required).
Large scale:
K32 building – Dedicated to a single pharma product (the largest in the world for pharma production)

K30 building – Aqueous only. Process transfer, high-value excipients, high-volume SDDs and a multi-ton spray-drying capacity. Secondary drying using continuous plate dryer (if required).
Analytical/QC capabilities to support spray-drying activities
Our chemistry and spray-drying resources are supported by a broad range of analytical and statistical modelling capabilities (spectroscopic, purity, physical, thermal methods and software).